Nine Alternatives to Confetti
Now most weddings I conduct still have confetti throwing (except my own, where we forgot all about it), but when to throw is divided into two main camps: you either have guests shower you as you go back down the aisle (which really gives your ceremony a very celebratory and fun ending, but only guests seated nearest to the aisle get in on the action), or it's a little more staged after the ceremony, usually with myself and the photographer herding your guests into a long line so that everyone has a good pelting position and your photographer gets all the best shots of it happening. It becomes a whole separate event. But either way, why stick with the old pastel horseshoe and bell paper cut-outs of your parents' generation. Here are some obvious, and less obvious, alternatives*.
1.Petals.
The growing trend. I see flower petals more often than paper confetti and of course it's very eco friendly. Try the likes of Shropshire Petals. Or make your own.
1. Bubbles.
Again, not breaking the mold with this one, but they look so pretty and the kids love them. Give all your guests a little bottle or go all out and use a machine for the wow factor.
2. Leaves.
Having an autumn wedding? This is perfect and makes everyone feel like a kid again.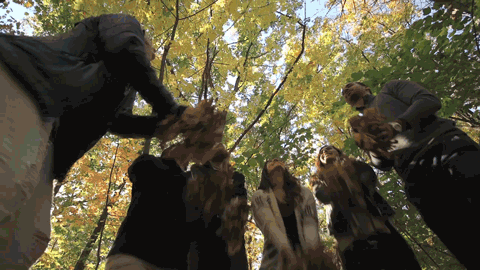 3. Snow.
Ok, maybe not real snow, but for a white winter wedding you could use fake snow for the same effect. You can get these little bags of white or clear fake snow in the run up to Christmas, usually around £1 for a decent sized bag. Go for big flakes, avoid the powdery stuff you make up with water.
4. Rice.
Definitely don't use leftovers from the Chinese takeaway. Dried rice is a tradition in many countries as it's thought to boost fertility. Be careful now!
5. Ribbons/ streamers.
Either have these attached to sticks for your guests to wave, or use the kind of streamers that you can throw. It might get people tied up in knots, and there's a bit of an art to the throwing, but very colourful and different.
6. Pompoms.
Looking for yet another wedding craft project? Why not make a ton of pompoms in your wedding colour scheme. The brighter the better as they stand out more in photos. Gets guests to throw them for a look that suggests you're surrounded my magical floating orbs.
7. Money.
A tradition in some parts of the world (but coins are pretty painful and notes fly away!) Try monopoly money for a fun, silly effect.
8. Paper planes.
Again, get crafting, or have paper and instructions on your guests' seats as they arrive. Beware of the pointed noses though – they can hurt – ask guests to send them skywards rather than at you! The little foam ones that come in packets are a good idea. Still need assembling but are softer and always fly well.
9. Balloons.
Much more eco-friendly than a balloon release, just fill with air so they float back down. Mix up the sizes and maybe throw in some giant balloons and imagine you're in the crowd at a concert. Think Coldplay. Another bonus is that they bounce, and people can't help but bop a falling balloon so this could go on for quite some time.
*Some of these work better indoors, some outdoors, for practical or environmental reasons. I won't patronise you by pointing them all out, I'm sure it's obvious.