Epic Endings – Eight Ideas
Looking for some wacky ideas to exit on a high?
1. As you head back down the aisle take a side each and high five as many people as you can. Pretend you're Usain Bolt passing the crowd after winning another gold medal. Pull his signature "To Di World" pose too if you like. We're cool with that.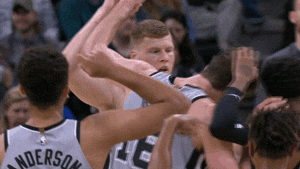 2. Set off a confetti canon. Yes, those little hand held ones are cute, but I'm talking a big industrial one. Think the 'golden buzzer' on Britain's Got Talent. There are two kinds – one that has one big explosive blast, and one that has a powerful fan to scatter them more evenly. Beware – both are noisy, and may well ruin your carefully chosen exit music (but you won't be able to tell by looking at your kick-ass photos).
3. Bubbles. Again, we're talking volume here; it really needs to be a big bubble machine showering you and your guests as you leave. It has the potential to be messy so it's best outside – and if it rains whilst you're covered in fairy liquid residue you could have an impromptu foam party on your hands.
4. Pop some balloons. Station your groomsmen/ bridemaids at the end of the aisle and pop some (confetti filled) giant balloons over your head for an amazing photo opportunity!
5. Jump the broom. A neo-pagan tradition with links back to the time of slavery, when plantation workers invented it as their own marriage ceremony (they were not legally allowed to marry). Usually this is the final action in a ceremony where the couple hop over the broom (or improvise according to your hobbies; a hocky stick would work just as well) and leg it down the aisle, thrilled that you made it without tripping up.
6. Seven steps. There is a Hindu belief that two people who take seven steps together will be lifelong friends. When performed at a wedding, each step contains a wish – one for nourishment, health, wealth, happiness, children, a long life and lifelong friendship (or make your own: a house full of kittens, a holiday in the Maldives, unbelievable sexy time…). Usually done around a sacred fire, but why not take each step as you exit back down the aisle.
7. Dance. However the heck you like. Improvised dance or slickly choreographed – it's a great way to make your exit. Rope in the wedding party or hire in professionals for a crazy flash mob worthy of YouTube.
8. Start a conga. Who would be expecting 'Choo choo choo, come on and do the conga' to blare out at the end of your vows? Grab the ushers and bridesmaids and the rest should follow suit. A novel way to get from the ceremony to the bar…